1.產品概述 / Product Overview
  工業級APF是我公司引進美國技術針對工業應用環境開發的諧波治理裝置,有源模塊結構采用立式設計。功率組件采取大容量英飛凌IGBT,器件額定功率選值大于有效值的3倍以上,其濾波電容組件采用高壓濾波電容,抗高電壓畸變率強,留有足夠大的安全余量,在負載較大沖擊下,能長期工作。模塊采取軸流風機散熱,風量大,風壓足,散熱好; 整柜采取下進上出風模式,整柜頂部采用軸流風機抽風,底部采取防塵百葉窗進風,可較大程度隔離外部灰塵,能適合高溫工業現場及環境惡劣尤其粉塵較大的場合應用。例如:粉體廠、粉石廠、瓷磚廠、水泥廠、鋼鐵冶煉等。
  Industrial APF is a harmonic suppression device developed by Armat introducing American technology for industrial application environment. The active module structure adopts vertical design. The power module adopts Infineon large-capacity IGBT, and the rated power of the device is more than 3 times the effective value. The filter capacitor module is the high-voltage filter capacitor, which has strong resistance to high voltage distortion rate and a enough safety margin, and can work for a long time under the impact of large load. The module uses the axial flow fan for heat dissipation, with high air flow, sufficient air pressure and good heat dissipation. The whole cabinet adopts the lower air inlet and upper air outlet mode, the axial flow fan is used at the top of the whole cabinet for air draft, and the dustproof shutter is used at the bottom of the whole cabinet for air intake, which can isolate the external dust to a greater extent and be suitable for the high temperature industrial site and harsh environments, especially the environments with much dust, such as powder factory, powder stone factory, ceramic tile factory, cement factory,Iron and steel smelting and so on.
  2.工作原理 / Operating Principle
  工業級有源電力濾波器(簡稱APF)采用現代電力電子技術和基于高速DSP器件的數字信號處理技術制成的新型電力諧波治理**設備。
  Industrial active power filter (APF) is a novel kind of special equipment for power harmonic suppression, which adopts modern power electronic technology and digital signal processing technology based on high-speed DSP devices.
  它由指令電流運算電路和補償電流發生電路兩個主要部分組成。通過外部互感器實時檢測電網中各次諧波電流和無功電流,得到其指令電流,指令電流運算電路實時監視線路中的電流,并將模擬電流信號轉換為數字信號,送入高速數字信號處理器(DSP)對信號進行處理,將諧波與基波分離,并以脈寬調制(PWM)信號形式向補償電流發生電路送出驅動脈沖,驅動IGBT或IPM功率模塊,生成與電網諧波電流幅值相等、極性相反的補償電流注入電網,對諧波電流進行補償或抵消,主動消除電力諧波。
  It consists of two main parts: command current operational circuit and compensation current generating circuit. The command current is gotten by detecting the harmonic current and reactive current in the power grid in real time through the external transformer, the command current operational circuit monitors the current in the circuit in real time, converts the analog current signal to the digital signal, sends the digital signal into the high speed digital signal processor (DSP) for signal processing to separate the harmonic from the fundamental wave, and sends the drive pulse to the compensation current generating circuit in the form of pulse width modulation (PWM) signal to drive IGBT or IPM power module to generate and inject the compensation current with equal amplitude and opposite polarity to the power grid harmonic current into the power grid, to compensate or offset the harmonic current and actively eliminate the power harmonic.
  3.型號說明 / Model Description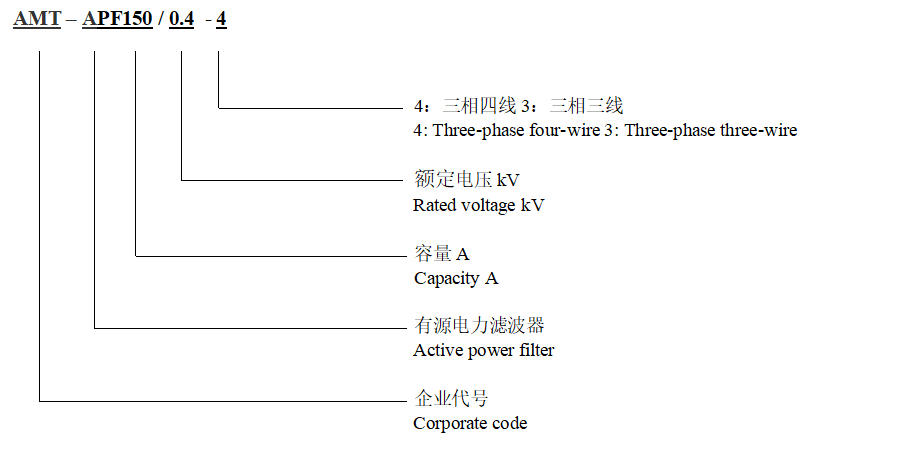 4.工業級APF常用選型表/ General selection table for industrial APF

名稱

Name

型號規格

Model/Specification

容量

Capacity

尺寸(W*D*H)

Dimensions (W*D*H)

APF有源電力濾波器(模塊)

Active power filter APF (module)

AMT-APF100/0.4-4

100A

258*563*1383

AMT-APF150/0.4-4

150A

AMT-APF200/0.4-4

200A

有源濾波裝置APF (機柜)

Active power filter APF (cabinet)

AMT-APF-200/0.4

200A

800*1000*2200

AMT-APF-250/0.4

250A

800*1000*2200

AMT-APF-300/0.4

300A

800*1000*2200

AMT-APF-450/0.4

450A

1000*1000*2200
  5.技術參數 / Technical Parameters
項目

Item

項目描述

Item Description

電氣規格

Electrical Specifications

輸入線電壓

Input line voltage

380V或690V(-40~+20%)

380V or 690V (-40 ~ +20%)

相數

Phase number

3相4線;3相3線

3-phase 4-wire; 3-phase 3-wire

頻率

Frequency

50/60±5Hz(可設置)

50/60±5Hz (configurable)

補償電流

Compensation current

100A/150A/200A(根據機型)

100A/150A/200A(according to model)

補償諧波階次

Harmonic compensation order

2~50次(可設置)

2-50 times (configurable)

并聯運行

Parallel operation

不限

Unlimited

模塊功耗

Module power consumption

<2.5kW

效率

Efficiency

高達92%-98%

Up to 92%-98%

CT變比范圍

Range of CT transformation ratio

150:5~6000:5

通信接口

Communication interface

干接點

Dry contact

1個EPO

One EPO

通信

Communication

RS485通訊接口,采用MODBUS遠程通訊協議。

RS485 communication interface, using MODBUS remote communication protocol.

環境規格

Environment specifications

使用場所

Application

室內,不受陽光直曬,無塵埃,腐蝕性、可燃性氣體,油霧、水蒸汽、滴水或鹽份等

Indoor, free from direct sunlight, dust, corrosive, flammable gas, oil mist, water vapor, water drop or salt, etc.

工作海拔

Altitude

低于1500米,高于1500米時降額使用。

Lower than 1500 meters. Derate if the altitude is higher than 1500 meters.

存儲溫度

Storage temperature

-20℃~+70℃

工作溫度

Operating temperature

-45℃~+55℃

濕度

Temperature

小于95%RH,無水珠凝結

Less than 95% RH, no condensation

振動

Vibration

小于5.9米/秒2(0.6g)

Less than 5.9 m/s2(0.6g)

結構

Structure

防護等級

Level of protection

IP20

顏色

Color

白色(可定制)

White (customizable)

尺寸

Size

見下節(根據機型)

See the following section (according to model)

冷卻方式

Cooling mode

風冷(大功率軸流風機)

Air cooling (high-power axial flow fan)